Winemaker Travis Van Caster on City Winery's Award-Winning Merlot
Travis Van Caster, winemaker at City Winery, is no stranger to award ceremonies. He's been the force behind many notable victory laps. In the 2023 Great American International Wine Competition, City Winery took nine awards, including Platinum Medals for its 2021 Reserve Zinfandel "Cuvee Bacigalupi" and its 2021 Syrah "Knit." At the prestigious Jefferson Cup Awards, which honors the best wines produced in all American wine regions, the Montgomery, NY-based City Winery snagged eight medals; those wins included two gold and four silver medals. Meanwhile, at the 2022 Los Angeles Invitational Wine Challenge, City Winery took home 3 gold and 3 silver, and at the 2022 Denver International Wine Competition, City Winery won Best of Show for its 2017 Signature Series Pinot Noir and Best of Class for its 2017 Signature Series Cabernet Sauvignon.
So—at City Winery, awards have been won.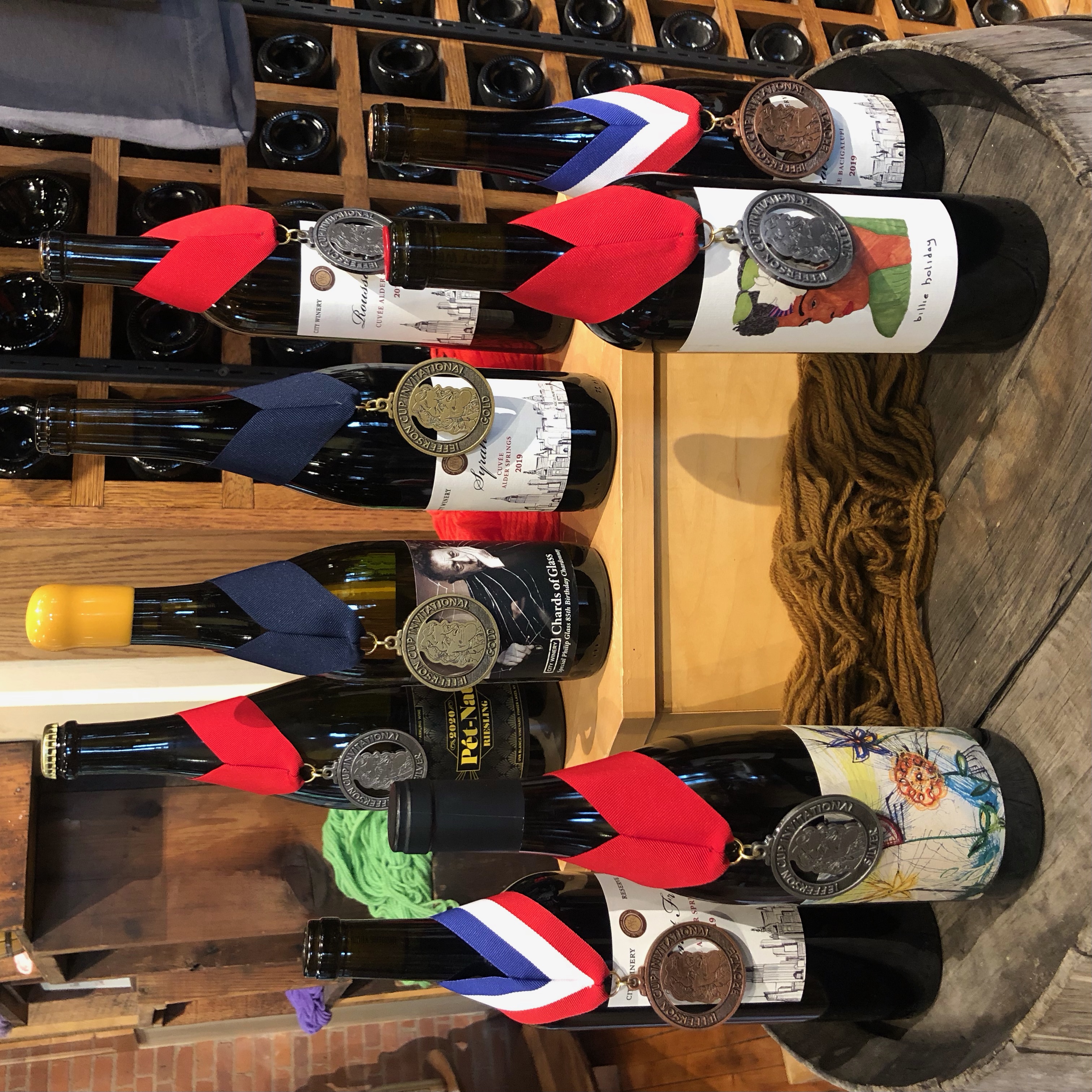 RELATED: Concerts in the Vineyard: Outdoor Music Done Better
But one of City Winery's award-winning wines comes with the sort of outlandishly dramatic backstory that you might expect from the sports world; the 1969 Mets, say, or the 1980 "Miracle on Ice" Olympic hockey team. That wine is City Winery's 2020 Reserve Merlot, Uva Blanca Vineyard. Entered along with 1,400 other wines from 23 countries, it won "Merlot of the Year" at the 2023 New York International Wine Competition. It is a wine that almost shouldn't be.
Its beginnings were inauspicious. Here's how Van Caster remembers it: "This was in 2020. And if you recall, in addition to COVID, almost the entire West Coast was on fire. At City Winery, we're typically bringing a lot of our grapes from the West Coast; that year, we ended up having to cancel many of our grape contracts."
"In a bid to not go without making wine," he continues, "we reached out to some of our vineyard partners in the Finger Lakes where we typically get white grapes to ask about red grapes. From them, we were able to source Cab Franc, Merlot, Syrah. As a winemaker, this was really an exciting moment. We were getting grapes from not our Plan A region—but still good fruit—and then setting out to make a reserve wine."
As with all heroic stories, this one has an element of luck—in this case, remarkably bad luck (California was on fire) and remarkably good luck. According to Van Caster, 2020 was a once-in-a-decade vintage in the Finger Lakes. The western New York vineyards had enjoyed uncharacteristically gorgeous weather and an excellent growing season.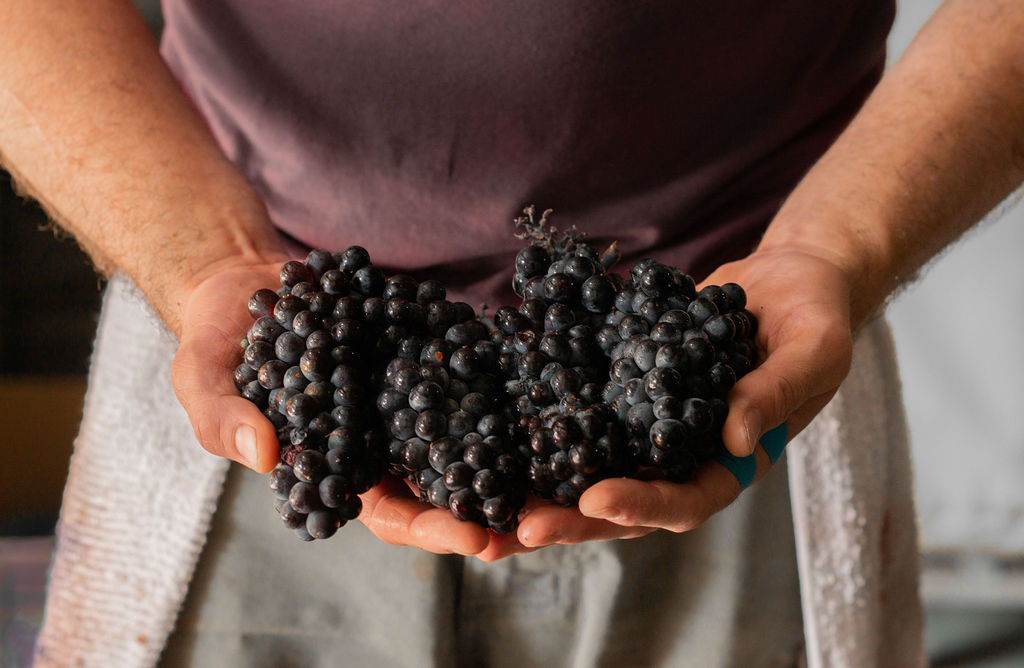 That said, Van Caster's challenges started immediately. He recalls, "We got the grapes hand-harvested—so our grower in the Finger Lakes had to hand-pick everything directly into wooden picking bins. The grapes arrive at the winery three and a half hours later. I was still a little shaky coming out of COVID, and these five picking bins arrived. Three of them were Merlot, two of them were Syrah, but none were labeled. My first thought was, 'Oh no! What if we get them wrong?'"
Van Caster got a hold of himself. He recalls thinking, mid panic, "'Wait a minute. I'm a winemaker! Let me just taste the grapes." They were a revelation: "I had this fantastic moment where I realized that if I don't make something amazing out of this, it'd be my fault. What I got was this cornucopia of blueberries, raspberries, blackberries—all kinds of fresh berry flavors."
Of course, the Finger Lakes are not the Russian River Valley. Though both regions produce some of the same grape varieties, their different terroirs—topology, soil composition, weather, etc.—produce vastly different fruit. To account for Finger Lakes grapes, Van Caster had to radically rethink how he makes Merlot.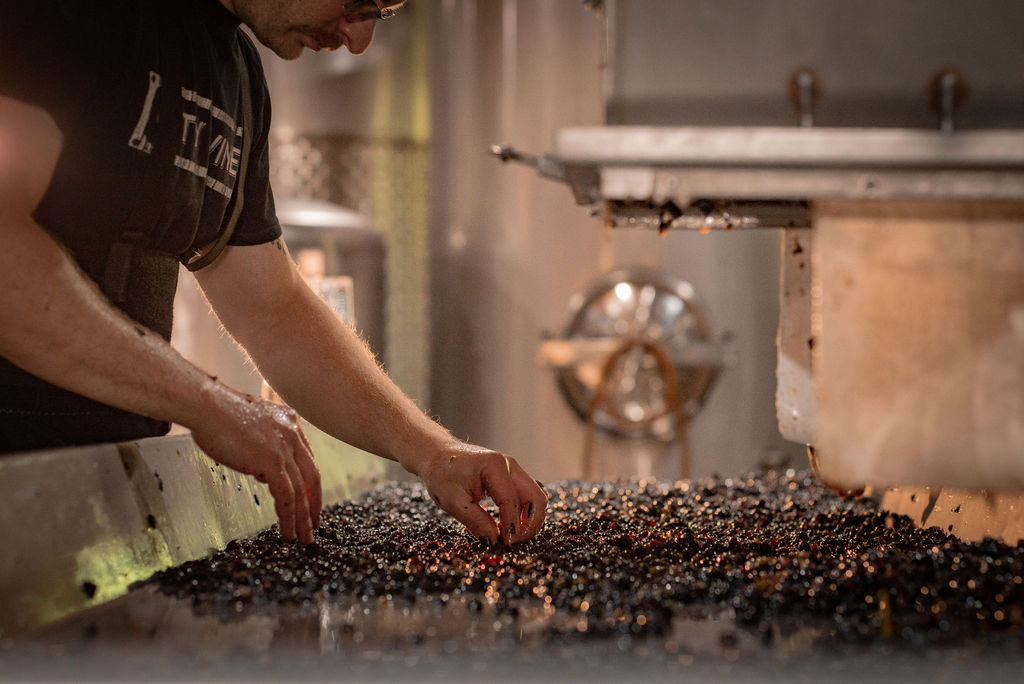 He ended up splitting the pressing into two fermenters: one, an open steel tank, and the other, a giant—as in, one and a half ton—oak barrel. By using two different fermentation modes, Van Caster was trying to create complexity in the wine. His plan was to harness the grapes' bright, fruity characteristics by fermenting at cool temperatures, no warmer than 75F. Also, unusual for red wines, Van Caster included 15% whole clusters in the fermentation, figuring that the stems will add tannin while slowing and cooling sugar-fueled fermentation. The grapes that had been hand-picked at the vineyard demanded even more careful labor at the winery. To keep the fruit, stems, and skins from rising above the juice, winery hands had to manually "punch down" (resubmerge) the fruit three times a day. Meanwhile, to oxygenate the juice, the winemakers had to spin the massive oak barrel. Says Van Caster, "It takes two grown men, like, leaping off of the ground to get the thing to spin."
All this adversity, luck, and seat-of-the-pants winemaking yielded a stunner. Says Van Caster, the oak "was bringing a lot of brown spice to the wine: cloves, nutmeg, cinnamon, baking spices. We ended up with a wine that has body and texture to it. And if you didn't know it was Finger Lakes, you wouldn't guess it was a cool climate wine. It's very bold and big—but, aromatically, the fruit profile is so fresh. Clean fruit with this beautiful baking spice."
Look for the New York International Wine Competition's "Merlot of the Year"—City Winery's 2020 Reserve Merlot, Uva Blanca Vineyard—as City Winery's October Vinofile pick. Or just drop by the gorgeous Montgomery, NY winery for a meal, a show, a winery tour, or a tasting.
All photos courtesy of City Winery