Grow Black Hudson
You could say that Grow Black Hudson started with a family garden.
Between the onset of the pandemic and the contentious conversations about state violence against people of color following the death of George Floyd, the spring and summer of 2020 was a deeply uncertain and emotionally tumultuous time. In response, Nkoula Badila found solace in a place that felt familiar to her: the land itself.
Several of Badila's relatives were staying at the family home in Hudson at the time. And with lockdowns leaving them with plenty of time on their hands, Badila and family cleared the backyard and completely revamped the garden.
"It was a time for us to be together," she says. "It was like having a whole team to support whatever visions we had for our family home." And considering the state of grocery stores, with bare shelves and supply-chain issues looming, growing food felt particularly timely. It wasn't long before she was helping other Black families in Hudson do the same.
By this point, farming was already a significant part of Badila's life. She had always been around plants, thanks in part to her Congolese father passing down the earth-venerating spirituality and traditions of their ancestors, many of whom practiced plant medicine. She attended a Waldorf school as a kid, and after high school she began WWOOFing (working with the network Worldwide Opportunities on Organic Farms). There, she spent time traveling throughout Central and South America, as well as Haiti and California, working with and learning from organic farmers, picking up practical techniques while also witnessing traditions that connected people to the earth.
"That just continued to deepen my relationship with working with the earth," she says. "Seeing all the abundance—and the necessity for us to, more than just grow our own food, but also connect with the earth spiritually, on a healing level—I've definitely grown to feel the alignment within myself."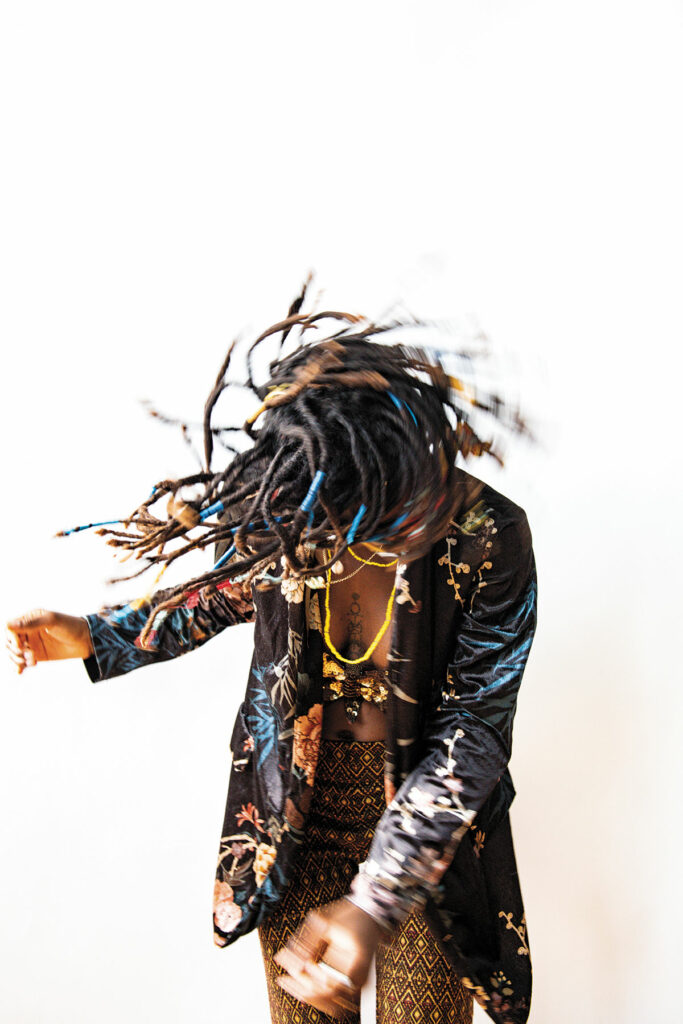 Badila wanted to share the healing, transformative experience of connecting with the land. In mid-2020, she found a way to do just that. She began distributing seedlings, planter boxes, and other supplies right from her front porch. Crucially, she also shared her knowledge and experience with people who wanted to grow their own food but didn't know where to start.
Badila finds that, like so many things, farming is rarely depicted as something accessible to people of color in the U.S. today. Growing food, she says, "is broadcast in this way, so that we [Black and Brown people] don't see ourselves in it."
"Even in the schoolbooks, you see Old MacDonald and you think of a white man running farms," she says. And indeed, the majority of agriculture today is monopolized by massive corporations with white directors. It's a field from which Black and Brown people have been systematically excluded over the last century-plus, a period that's concurrent with the rise of processed food and its result: nutrition deficits disproportionately affecting communities of color. All of this—aided by a healthcare system that historically underserves (and sometimes directly harms) people of color—has created a situation in which many Black Americans are alienated from taking control of their own diets and personal health. That's why, for Badila, planting is an act of empowerment. When Black people grow their own fruits, vegetables, and herbs, they become less reliant on corporate-controlled food systems. It also gives them the tools to better serve their own health needs, by making fresh and nutritious food available in their own backyards—literally.
"A lot of the elders I know would have all these pills prescribed, and sometimes they're, like, 'It makes me feel worse, but the doctor said I need to take it.' And I'm not trying to compete with a doctor, of course, but I can offer other elements that can help soothe [their ailments]."
The idea of taking control of one's own health has been especially powerful throughout the uncertainty and instability of the pandemic. And the community has embraced her efforts with open arms. Early on, she started a GoFundMe to support the project, and it surpassed its $10,000 goal in less than a week.
Two years on, Badila has maintained an air of informality in the way she operates Grow Black Hudson. She attends community events, in part to connect with Hudsoners she doesn't yet know. But the majority of her work happens from her front porch, or by visiting families at their homes and working with them one-on-one to build a garden that suits their needs.
Badila wants folks to feel comfortable calling her up or swinging by to ask questions. "Everybody has my number," she says. She's managed to build community in a very real sense which, for her, stems directly from the work itself.
"Having that respect for nature, it also gives you that respect for your community," she says. "It helps to just bring more understanding. I can pause and slow down, and I can also see myself in this person's shoes. And it's easier to work together to find solutions and harmony."
Grow Black Hudson
Hudson, facebook.com/growblackhudson/