After two long years of restrictions, postponements, and cancellations, we're thrilled to finally return, uninhibited, to planning the weddings of our dreams. Are you desiring a blowout bash attended by everyone you know? You go. An intimate affair celebrated by just your inner circle? We love that for you, too.
No matter your vision, it's critical to find the right location to see it through. Here are eight New York wedding venues that are sure to knock the socks off of everyone in attendance—and, most importantly, you.
Who would've thought that you could have a beachside destination wedding right in New York City? Say "I do" on an outdoor terrace overlooking the ocean, then move the party to one of The Rockaway Hotel's intricately designed event spaces. No need to splurge on reception decor because The Harbor Room, which can seat 350 guests, is as chic a ballroom as they come. Soft beige and white coloring is reminiscent of the nearby sandy shore, and floor-to-ceiling windows, which also open onto a spacious outdoor deck, offer guests a stellar view. Smaller parties will feel comfortable in the equally attractive McGuire Room, which seats a max of 70.
A Civil War–era mill turned campus for contemporary art exhibitions and studios, Foreland is a funky and gorgeous spot for your wedding. Choose between two riverside spaces, the 50,000-square-foot Flagship Building, which can host 185 people, or the 4,000-square-foot Book House, which can host 120. Both are photogenic as all get out, and include bridal suites, secret bar spaces, and a load of other interesting amenities.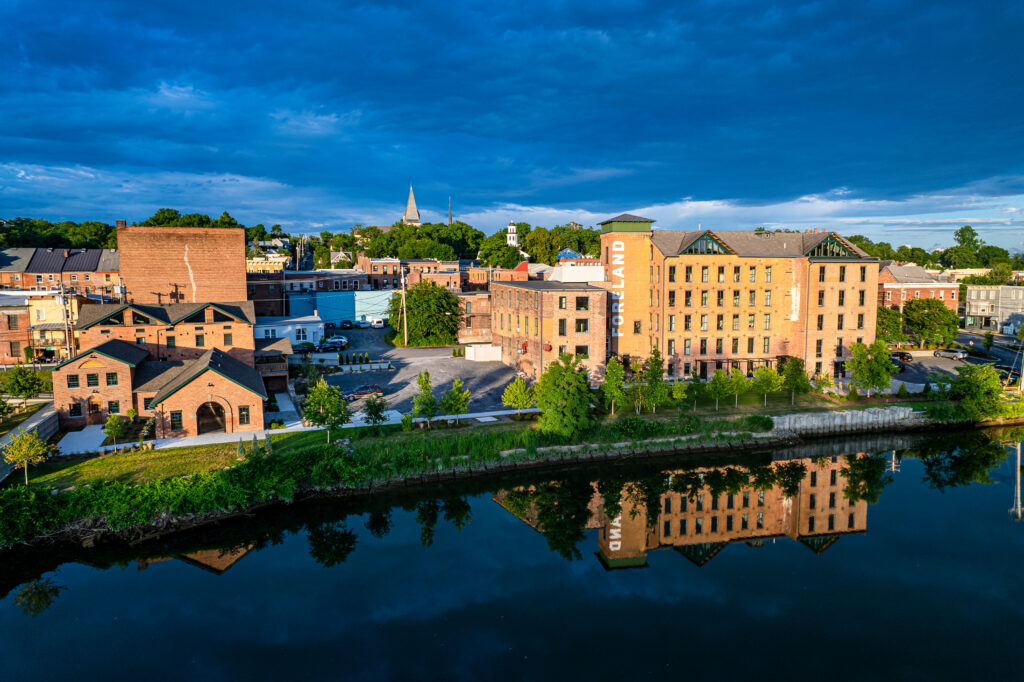 "Think of us as your country house that's always stocked with wine and cheese," says The Woodhouse Lodge, a description all too perfect for those looking to get married in a quaint and quiet rural retreat. A weekend buyout of the 10-room hotel is required for weddings, and includes ​​a beautiful event space, tree-filled lawn, and lodging for 28 guests; up to 120 guests may attend the event. On-site Woodhouse Pizza can also cater a casually tasty rehearsal dinner.
Weddings at XX Venue, a trendy loft and private rooftop located in the heart of Williamsburg at Wythe and North 11th, simply ooze cool. The venue sits atop one of the neighborhood's last remaining factory warehouses and offers an uninterrupted view of the city skyline. The 15,000-square-foot space (plus an additional 4,000 square feet on the roof) can accommodate up to 200 guests and is a blank canvas for creatively customized ideas.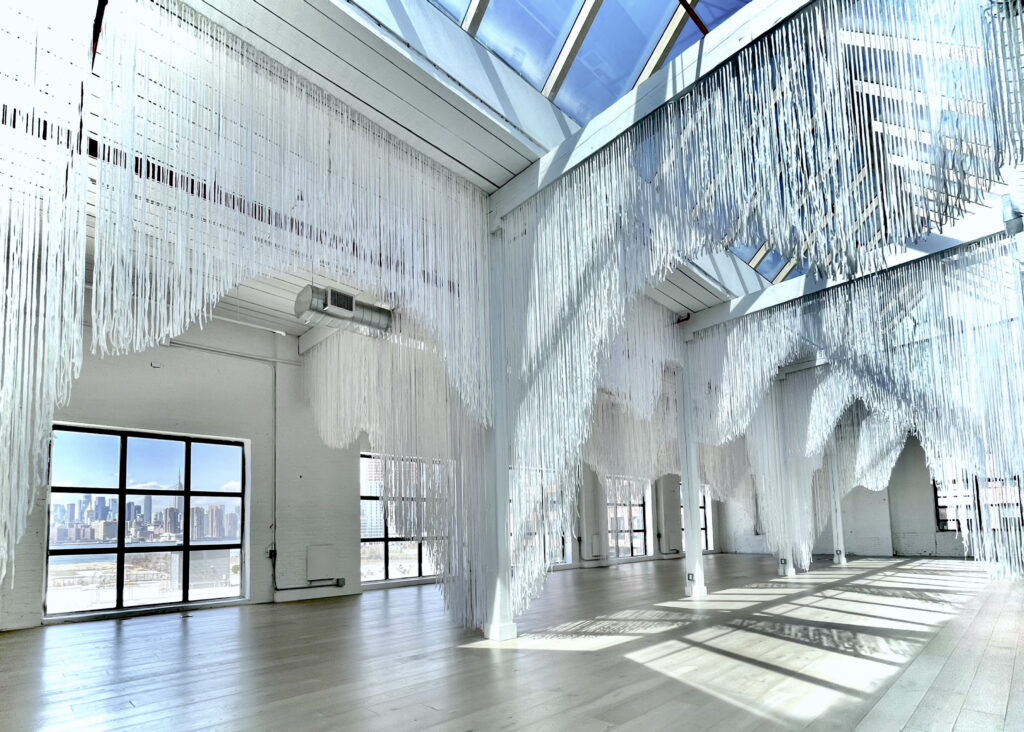 New Yorkers have been getting married at Mohonk for generations, and it's just as charming now as it was decades ago. The views of the lake and the sunsets (oh gosh, the sunsets!) are truly exquisite, and the property offers a variety of locations to host your ceremony and reception. Our suggestion is to exchange vows in the blooming gardens, enjoy cocktail hour on the lakeside ​​Parlor Porch, then head to the Picnic Lodge for the most Dirty Dancing kitsch reception. Their sweet spot is between 40–60 guests, Patrick Swayze not included.
RELATED: Edible Weddings: Meet the Couples: Roxanne and Cameron
Calling all creatives: Mercury Store, an innovative theater startup situated in a 16,000-square-foot Gowanus warehouse, is now renting its awesome space out for weddings. Select one or multiple of their four studio spaces, ranging from 361 square feet (ideal for intimate gatherings) to 3,635 square feet (better for a larger-scale event).
No need for a genie in a bottle because this venue has everything you could possibly wish for your wedding: a stunning location, on-site accommodations for 16 (including a honeymoon suite), and amenities (there's a sauna, baby!), and total flexibility to make the event your own. A wedding buyout will span four days to include two events—namely, a welcome party then the ceremony, cocktail hour, and reception, plus setup and breakdown—for up to 225 guests.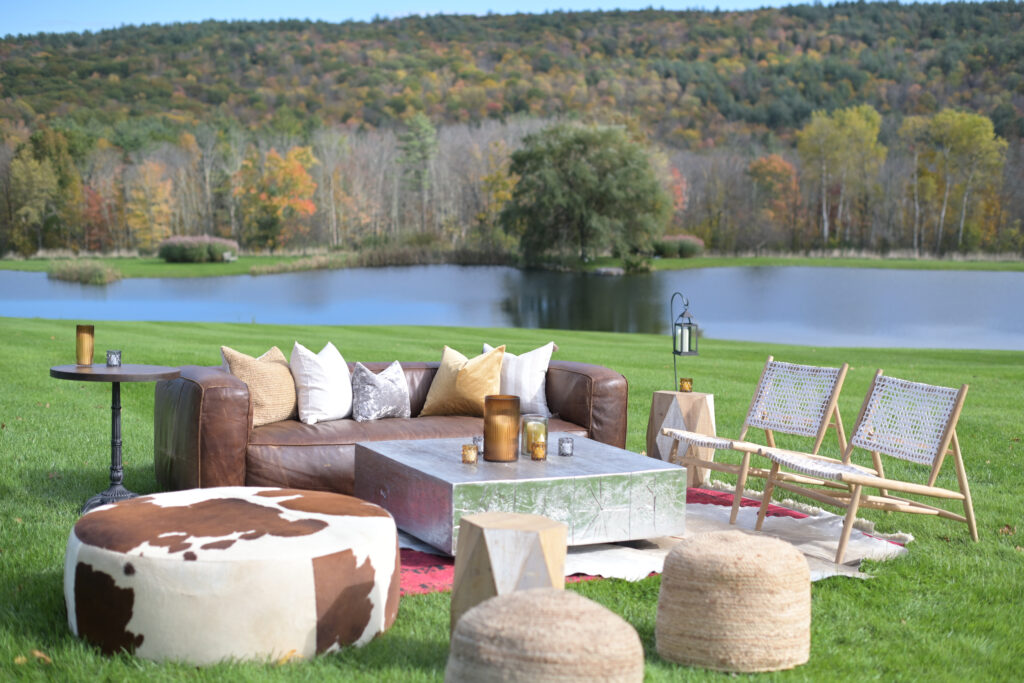 Before you ask—no, Lizzie is not involved. The estate's name comes from its former owners, the founders of Borden Dairy, but original ownership of the land can be traced back to the Munsee branch of the Lenape people in the 17th century. Today, the Borden Estate is a lovely venue atop the rolling hills and under the blue sky of the Hudson Valley. Between the spacious grounds and 15,000-square-foot barn and theater, there's room for 250 guests, with historically handcrafted overnight accommodations for up to 60.
Feature Photo by AGP Collective of Hayfield Catskills.