And One Bar Heading Toward the Light
COLONIALISM + COCKTAILS
One of the wildest aspects about tiki's pick-and-choose aesthetic is that it was birthed, virtually fully formed, from the head of one man. Here's the story: Donn Beach (1907–89, née Earnest Raymond Beaumont Gantt), was a New Orleans–born Errol Flynn lookalike who spent his youth vagabonding around the South Pacific. He landed in Hollywood and, during Prohibition, worked part-time as a rumrunner while gigging in restaurants and taking bit parts in films. Beach also consulted with film production companies as a South Pacific expert while lending out his large collection of Polynesian artefacts for sets. In 1934, when Beach was 27, he united his artefacts, rumrunning, experience in restaurants—and over-the-top sense of set dressing—in the world's first tiki bar, Hollywood's Don the Beachcomber.
Meanwhile, 360+ miles away in Oakland, Victor Jules Bergeron Jr. (1902–84), watched Beach's bar draw Marlene Dietrich, Howard Hughes, and Clark Gable; in 1937 Bergeron turned his beer and burger shack into Trader Vic's, a Polynesian-themed restaurant. While both Bergeron and Beach claim to have invented the Mai Tai, Bergeron went on to head an international 20-restaurant tiki empire; Beach's wife (soon ex-wife) opened 16 Don the Beachcomber franchises while Beach was in the army during World War II. After the war and the divorce, the ex-wife got the business while Beach signed off as a consultant. He headed off to Hawaii and did not die rich.
As a trend, tiki is a mid-century phenomenon; it only exploded after World War II ended. Soldiers who'd fought in the Pacific theater, and the people who'd read about it stateside, were eager to experience the South Pacific fantasy invented by Beach and commodified by Bergeron. What tiki bars offered was a transportive, cinematic experience—bamboo-clad, grass-roofed bars; woven-palm paneling; and green glass fishing floats suspended by nets. Over the roof of his Hollywood Don the Beachcomber, Beach installed a hose that he'd run to simulate the patter of tropical showers—or, as some recalled, to encourage drinkers to stay for just one more.
The drinks, many invented by Beach or his four Filipino bartenders (whom Beach called the four "boys"), showcased rum and used fresh tropical fruit juices and house-made orgeat. These were flamboyantly garnished with flowers and served in hollowed-out coconuts, baby pineapples, and themed, sculptural serve ware. The mugs turned into a sideline: at Trader Vic's, Bergeron sold tiki serve ware in an attached gift shop. To eat, the classic mid-century tiki bar slung a heavily Americanized version of Chinese food; these dishes were sweet, meat heavy, and unlikely to be recognized in China. Often, they were studded with water chestnuts, pineapple, or lychee.
The first wave of tiki waned as upcoming generations found newer versions of exotica—say, psychedelia. It was only in the 1990s when The Great Cocktail Revival
spun through martinis, Manhattans, and finally, tiki drinks, that tiki's foundations in racism and cultural appropriation came into question.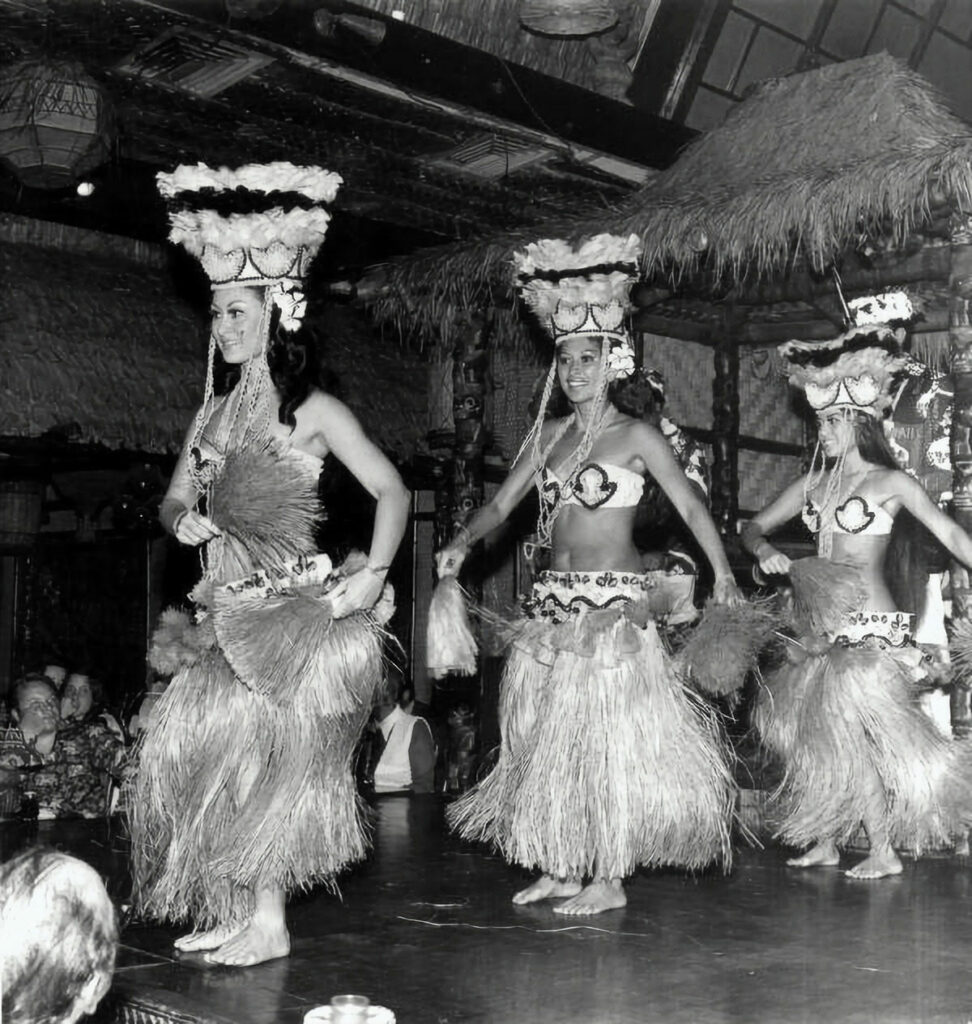 The word tiki was coined in New Zealand by its Maori people; there, tikis were small sculptures that were worn around the neck. They depicted the gods of the Maori creation story. In Hawaiian culture, which shares elements of the same creation story, tikis are large sculptures usually representing four gods: Kane, Ku, Lono, and Kanaloa. Now try to imagine a Maori or Hawaiian bar whose glassware and décor feature cartoon versions of figures in the Bible, the Torah, or the Koran. As native Hawaiian Stephanie Nohelani Teves, assistant professor in women's studies at the University of Hawaii at Mānoa (and author of Defiant Indigeneity: The Politics of Hawaiian Performance [UNC Press, 2018]) says in John Birdsall's excellent 2019 article on tiki in the Los Angeles Times, "I do not appreciate colonial nostalgia … Tiki bars are not cute."
As mid-century Americans encountered tiki (and experienced it through their own biases), it was a fantasy of Polynesian culture created by Donn Beach—a white male American tourist—and his acolytes. As such, and despite Beach's claim to expertise, there had always been an element of "they all look alike to me" in Beach's vision. Rum, the foundational spirit of tiki cocktails (with a nasty history of colonialism of its own) is not native to the South Seas: Traditionally, it's a Caribbean product. Meanwhile, zombies, for which Beach named one of the opening cocktails at Don the Beachcomber, were figures in Haitian Vodou. As Mike Mariani suggests in The Atlantic, zombies were used by Haiti's enslaved people to symbolize a servitude that not even death could release.
Shrunken heads, or tsantsas—a common tiki motif—were made by the Shuar and Achuar people of Ecuador and Peru, while moai, the monumental heads of Easter Island (another common tiki motif), were created some 4,000 miles from Hawaii. The 1933 international blockbuster King Kong—a movie whose plot many modern critics see as a thinly veiled allegory supporting slavery and colonialism in America—showed a similar disregard for specificity in the fictional people of Skull Island. Nevertheless, those people appear evocatively grass skirted on a set whose sculptures mimic Hawaiian forms. Having debuted one year before Don the Beachcomber opened, it's not inconceivable that Beach consulted on King Kong. More likely, King Kong's success influenced Beach's spooky, fictionalized version of Polynesia.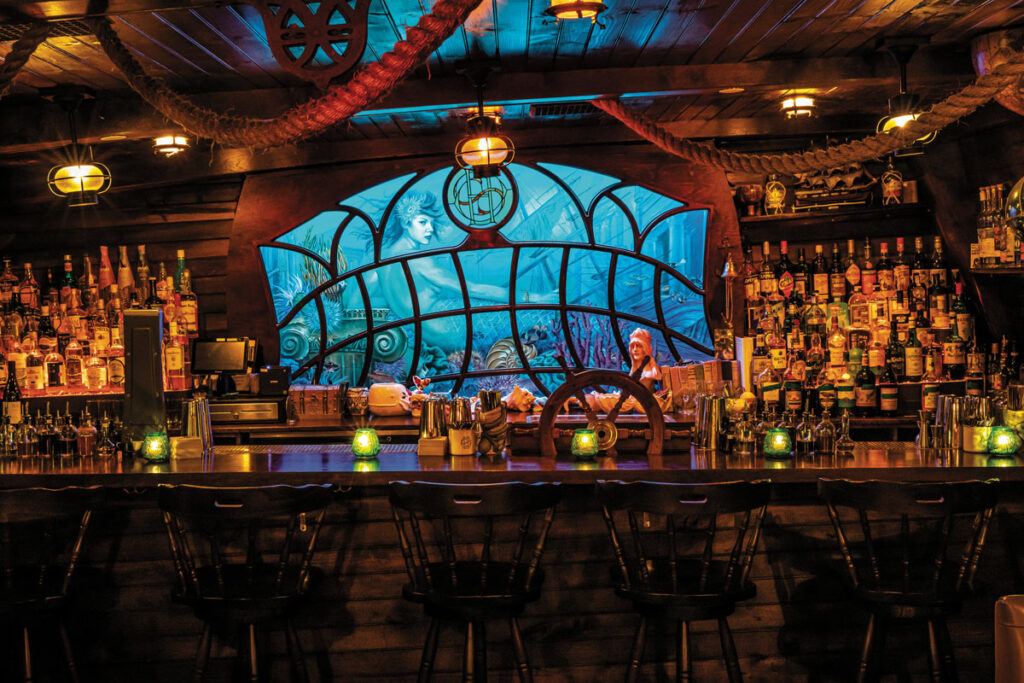 There is another problem with tiki: It's been around for 90 years. In that time, the powerful aesthetic of tiki cocktails has been built, brick by brick, by so many talented bartenders that, at this point, it's hard to just walk away. The good news is that some modern bars are keeping the mixological baby while throwing out the colonialist bathwater. The Sunken Harbor Club, which identifies itself as an "immersive tropical cocktail bar inspired by tales of adventure and the mysteries of the deep" simply disengaged itself from tiki's colonialist narrative and Donn Beach's scattershot cultural appropriation. Instead, The Sunken Harbor Club made up a whole new fictional narrative that includes the discovery of a "Compendium Bibendium" in the ruins of the NYC chapter of the "Sunken Harbor Club." The story runs that the book was written in secret code that, once deciphered, "revealed colorful scenes from the Club's history: glimpses of forgotten worlds, tales of wild adventure, and recipes for some of the most delicious drinks ever created."
As fictions go, you could certainly do worse.
---
WTF Is It?
PUPU PLATTERS
In Hawaii, the word pūpū traditionally referred to the fish, chicken, or banana served alongside kava, a tea-like infusion made from medicinal plants. More colloquially, pūpūs are small bites, like appetizers, and might include poke, boiled peanuts, sashimi, char siu, and Filipino lumpia. However, in the mid-century cultural washing machine that spat out tiki, pupu platters evolved into an entirely different thing.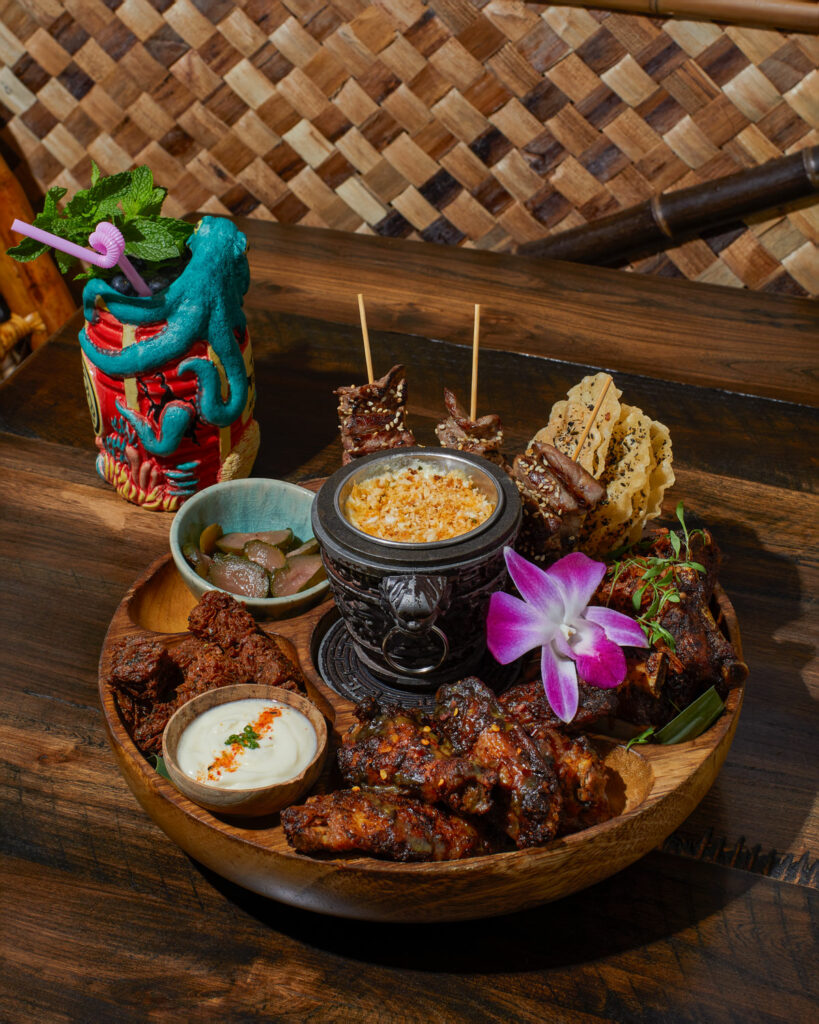 Overwhelmingly, the American pupu platter was a shareable array of mostly deep fried, Americanized Chinese foods: wontons, egg rolls, barbecued spareribs, and battered fried shrimp. Thrown in was often a nod to Japanese food—say, teriyaki beef skewers. Two pupu standards, crab Rangoon and rumaki, are wholly American inventions that fall in line with standard, mid-century American party fare: angels on horseback, pigs in blankets, and creamcheese-stuffed celery.
Crab Rangoon (deep fried wontons filled with crabmeat and cream cheese) were first spotted in 1956 at the Trader Vic's in San Francisco. Rumaki, which kind of sounds Japanese-ish, is chicken livers and water chestnuts wrapped in bacon and marinated in teriyaki sauce. That inglorious invention first appeared in 1941 at the Palm Springs Don the Beachcomber (and the muumuu-clad fans went wild).