Here's Where to Plunge, Swim, Soak, Steam, and Sauna Near You
Let's say that your summer plans don't include a three-month North Fork rental—oh, for a lot of reasons, but mainly, lack of money and the need to keep your job. If you're like most of us, you're looking at a long hot summer with limited access to beaches and pools. Or are you?
Look—New York City has a long history of uniting its people with water. In 1878, the Brooklyn Flatbush and Coney Island Railroad opened to bring New Yorkers to Brighton Beach and Coney Island; meanwhile, the LIRR opened the New York & Rockaway Beach line in 1880. Within two years, the ocean beaches of Brooklyn and Queens became accessible to everyone—happy throngs, hotels, boardwalks, and amusement parks followed.
Meanwhile, in the mid-19th century, public bathhouses opened to provide free hot baths for New York City's tenement dwellers. In 1895, New York State mandated that cities with populations exceeding 50,000 must provide public bathhouses—a relic of this, Yonkers Public Bath House No. 3 (1909), still stands on Yonkers Avenue. Among the private bathhouses, some offered homey services for recent immigrants. Manhattan's Russian and Turkish Baths (1892) offered Eastern European schvitzes with steam and oak broom massage.
In the Hudson Valley, the spring waters of Saratoga drew New Yorkers as soon as the railroad arrived in 1831. Its springs were piped to pools and steam rooms in Saratoga's many bathhouses. Later, the Borscht Belt resort Grossinger's had a steam room and sauna, plus an indoor pool and a rare, Olympic-sized outdoor pool.
Oddly enough, many of these experiences are still available. You can still hit the surf, take a schvitz, lounge by a hotel pool, get beaten with oak sticks, sip umbrella drinks, and roll around in therapeutic fresh snow. Here's where:
BEACH
This barrier island that tails off Jones Beach, Fire Island, and the Hamptons is home to a thriving food scene, plus vibrant arts, skate, and surf cultures. Access is free, the surf is real (and there are surfing classes)—plus, you don't even need a car. If you're looking to stay awhile, book a room at the Rockaway Hotel. It offers complimentary bikes for spinning the 5.5-mile length of the boardwalk, plus, there's a heated, kid-friendly pool with cocktail service, too.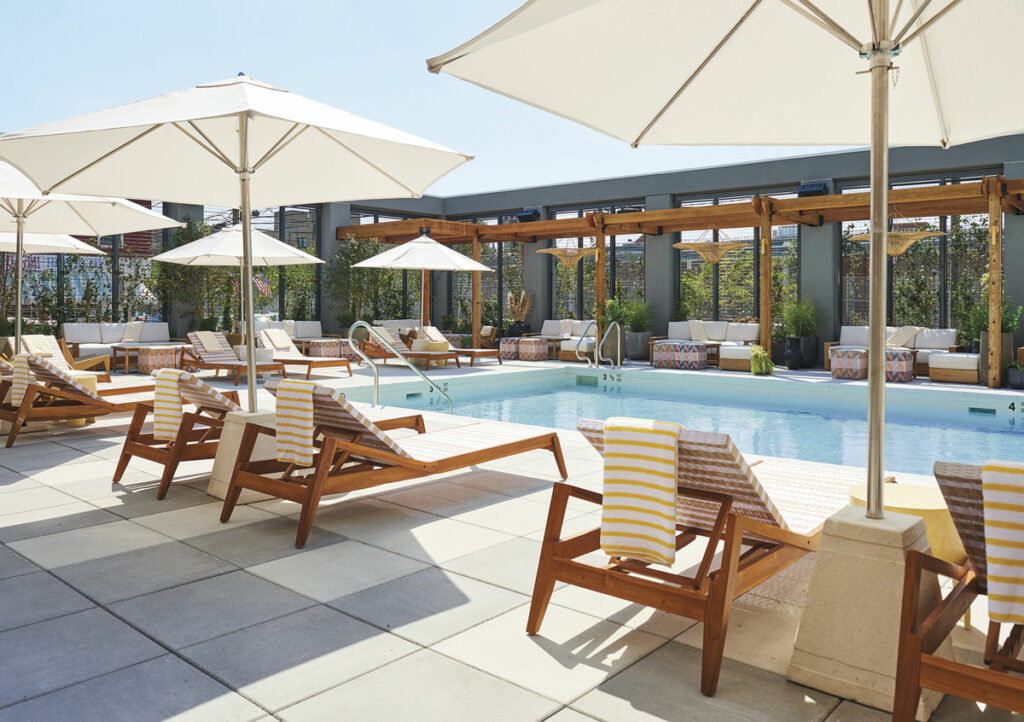 POOL WITH A VIEW
The world's coolest hotel operated in a former airport terminal, this architectural icon was designed by Eero Saarinen in 1962 during the official Golden Age of Air
Travel. While most rooms are not staggeringly priced (they start at about $300), it also welcomes day-trippers; for $50, you can spend all day sipping flight-themed cocktails by its infinity-edged rooftop pool. Don't skip a nightcap in Connie, the 1958 Lockheed Constellation airplane that's been retrofitted as a swingin' '60s cocktail lounge. Pool reservations required.
SPAS AND BATHS
On Governors Island overlooking the tip of Manhattan, this spa offers an outdoor pool (heated in winter), saunas, relaxation rooms, steam baths, Vichy showers, and foot baths. Admission prices range from $130–$186 and include robe, slippers, and hours of drifting from pool to sauna to steam bath and back again. Look for couples, gift, and multi-visit packages—plus, massage is available.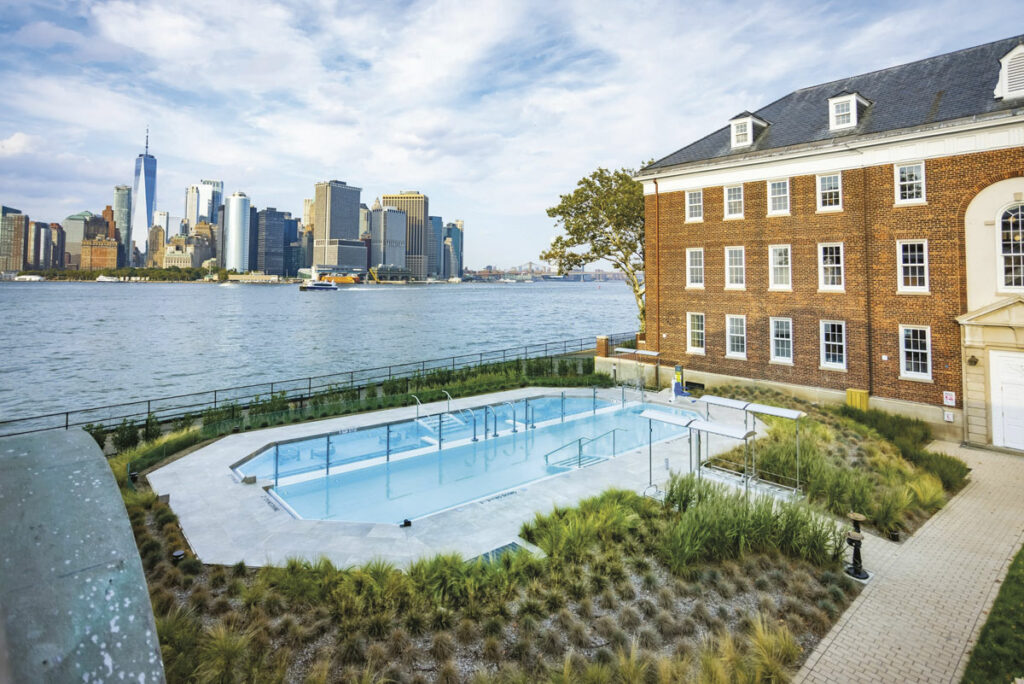 If you need a tune-up, head to this watery College Point nirvana where 140,000 square feet of saunas, European water spas, indoor and outdoor pools, and restaurants await. A mere $50 ($60 on the weekend) gives you access—from 10:30am–9:30pm—to a swim-up tonic bar, seven dramatic saunas (including one paneled in Himalayan sea salt, another in gold), plus a Roman-style frigidarium that'll jump-start your circulation.
The new 50,000-square-foot World Spa in Brooklyn offers all manner of globe-trotting therapeutic baths. Expect four saunas (infrared, aroma, private, and clay & hay); two Eastern European banyas designed for venik platza (therapeutic flagellation with oak twigs); both Moroccan and Turkish hammams; Japanese saltwater pools; a hot, jet-blasted Vitality Pool; a Hydrotherapy Pool; a Himalayan-salt-tiled relaxation room; and a Finnish-style cold dipping pool with man-made snow for a bracing roll or rub. Admission is $85 and includes robes and towels. Massage and body scrubs are available.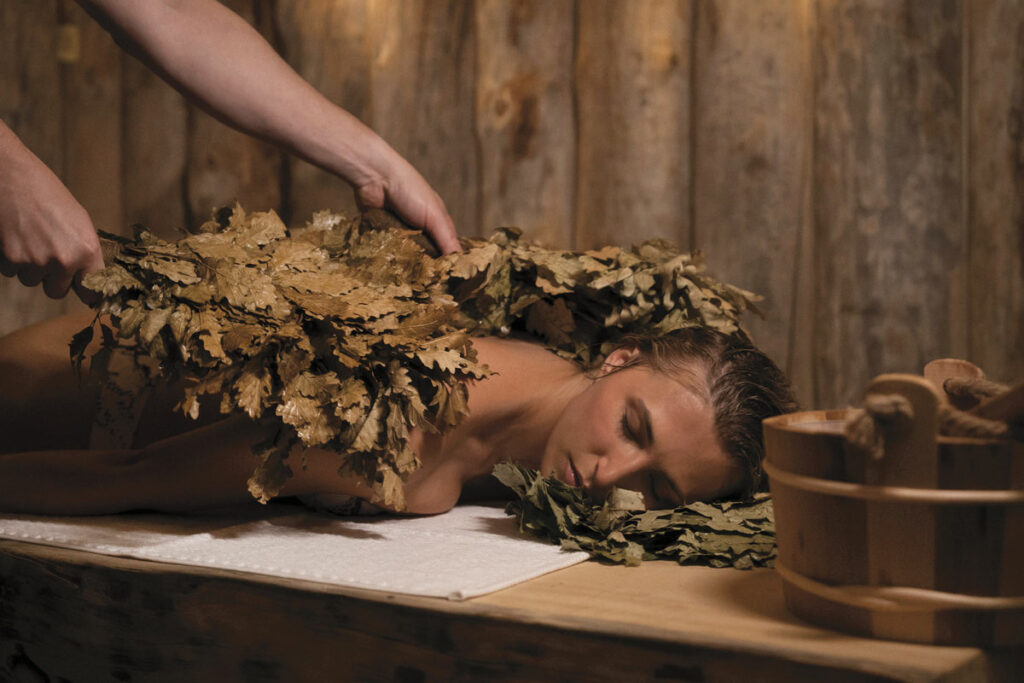 Shvitzes are back! This 19th century Manhattan bathhouse (opened in 1892) was once haunted by middle-aged executives sweating out martini lunches. Nowadays, locals go for pared-down saunas, steam rooms, cold plunge pools, and $40 platza treatments (see above): a gentle whipping with an olive-oil-soap-drenched oak leaf broom. Admission is $55, there is a Russian restaurant onsite, and massage and body scrubs are available.
SWIMMING HOLES
Celebrate your hike to the spectacular falls that inspired the Hudson River School artist Thomas Cole with a spray-washed dip in the two swimming holes at the bottom. The hike is a bit sporty, but there's a more easily accessed observation deck near the top. Check site for parking and trail info.
Inside the Catskill Forest Preserve, this famed swimming hole is actually a depression in the streambed rock of Rondout Creek, a unique natural feature excavated by the swirling sand and gravel of an ancient whirlpool. Sadly, its beauty led to overuse, so visitors now need to purchase $10 permits from reserveamerica.com that keep the crowds under control.
MINIBREAKS: HOTELS WITH POOLS
In Sullivan County, this elegant resort offers a glorious outdoor swimming pool nestled among hundreds of rolling private acres. You can go lazy and curl up on a pool lounge or you can go adventurous. Outdoorsy types can dip in the scenic swimming holes of the nearby Willowemoc River.
This gorgeous rethink of the Catskills resort sits on 220 thoughtfully planned acres designed by landscape architect Miranda Brooks. Expect untamed wilderness juxtaposed with formal manicured gardens, all done with reverence for native Catskills flora. After a day of exploration, golf, or tennis, visitors can relax beside either of two outdoor saltwater pools. Look for a spa to debut this fall.
A newcomer to Hudson, this formerly private Queen Anne residence offers rooms with luxury linens and towels, rain showers, and an outdoor firepit and garden. Best of all, it has a sweet little hydrangea-lined pool right in the heart of the city—perfect for winding down after your midsummer explorations up and down the length of Warren Street.
Under the stewardship of activist owners, the centuries-old homestead was a hotbed of progressive thought. Mark Twain, W.E.B DuBois, Henry David Thoreau, Langston Hughes, and Sinclair Lewis all spent time under its snug slate roof. Nowadays, it's a luxury retreat that offers Frette linens, breakfasts in bed, and a luxurious outdoor pool.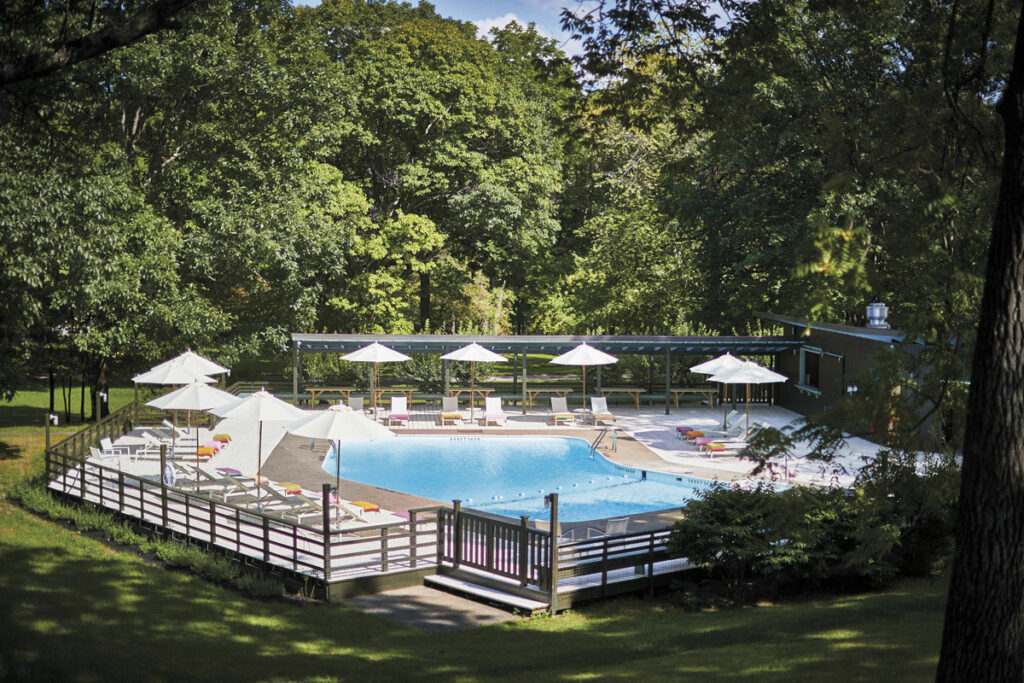 At this quintessential Hudson Valley resort (operating since 1869), stays are all-inclusive. Not only does that extend to all meals, but also yoga, meditation and fitness classes, guided hikes, golf, tennis, kayaking and canoeing, paddleboarding, and access to the resort's 60-foot indoor heated pool. By the way, the pool room's floor-to-ceiling windows overlook the green canopy of the surrounding woods.
---
Will New York City Get a +One?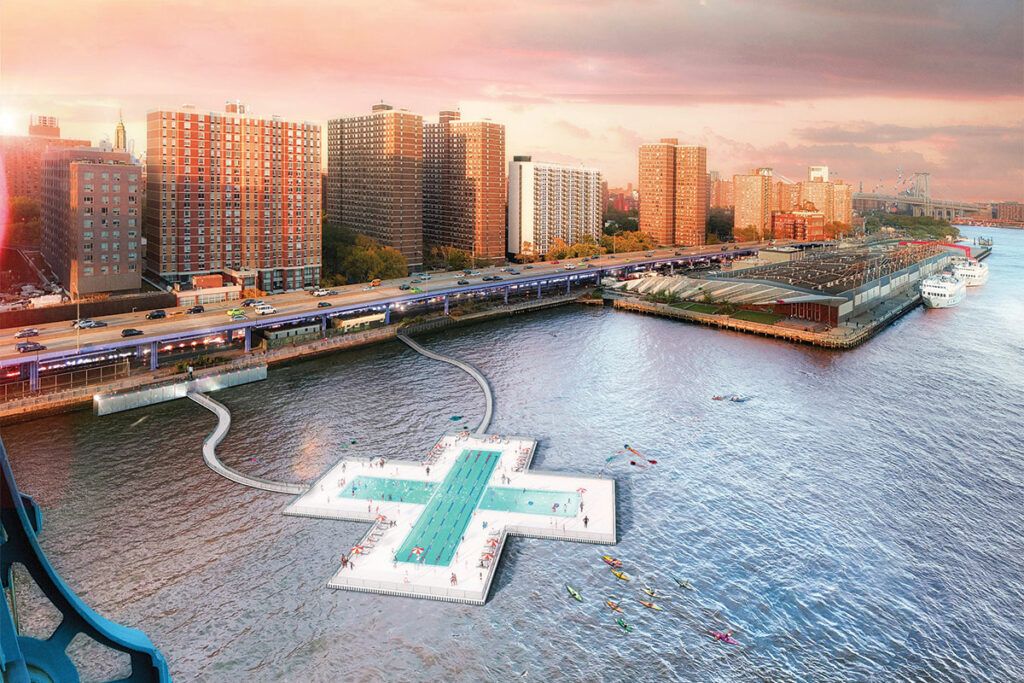 Imagine a 9,500-square-foot cruciform pool floating in the river just north of the Manhattan Bridge whose high-tech filters let the river water in but sieve out 400 years of riverine pollution. Each day, this pool will clean more than 600,000 gallons of river water, making it possible for New Yorkers to swim in the East River without exposure to sewage, industrial pollutants, or intestinal parasites. Its cruciform design offers flexibility: the arms make four distinct pools—for kids, for lounging, for swimming laps, and for sports. In the way that a public/private partnership transformed the derelict West Side Elevated Line (1934) into the High Line public park, +Pool is being fomented by Friends of +Pool, a 501(c)(3) nonprofit that supports the development and eventual operation and maintenance of the +Pool. To volunteer, donate, or follow the project's progress, visit pluspool.org.