Summer's Last Licks (and Where to Get Them)
If you have a nagging suspicion that you didn't quite achieve Maximum Summer 2022, there's still time. Check out these two local destinations where you can squeeze in the last bits of summer—get packing before it's too late!
Governors Island
You might be wondering why Governors Island is suddenly so hot. To understand the answer, it helps to know its history. The island's strategic location off Lower Manhattan between the East and Hudson rivers made it ideal for guarding New York City. The British built forts and garrisons there in the 1660s, but after Revolutionary War, New York City transferred control of the island to the federal government. From 1800 until the island reverted to NYC control, Governors Island housed troops during the War of 1812, held prisoners-of-war during the Civil War, garrisoned the 22nd Infantry during World War I, and headquartered the U.S. First Army as it strategized the D-Day invasion. When the City regained control of Governors Island in 2003, New Yorkers were granted 172 new-to-us acres only an eight-minute ferry from South Street. The City had an opportunity to build an urban playground, and (eventually) that's just what it did.
Glamp!
Collective Retreats, Governors Island
Thus far the only way to overnight on the Island, this glamping colony offers skyline views of Manhattan while visitors stay comfortably tucked in nature harborside. The tents are on wooden platforms, and come in various bed configurations (king, double twin, and two-bed addition tents). Stays here are sybaritic with high-thread-count sheets, Wi-Fi, continental breakfast baskets, and luxe bath products for the colony's shared bathrooms. Book separate reservations for sunset cocktails, grilled dinners, etc., available to glampers and day-trippers alike.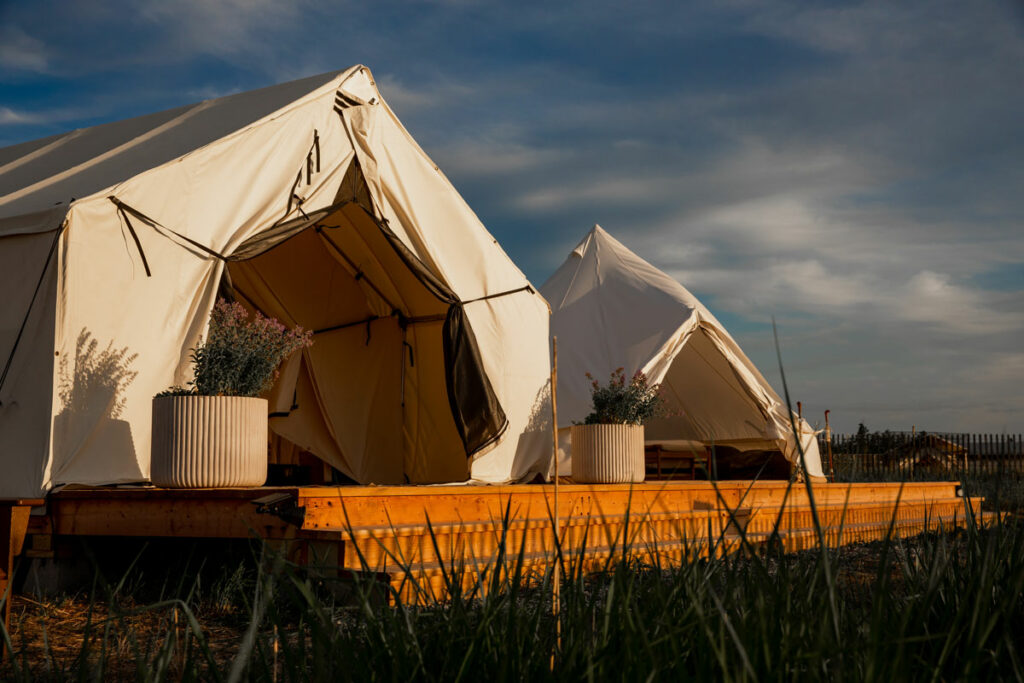 Explore!
Once there, rent a bike, go-kart, or pedal car at Blazing Saddles Bike Rentals! Or, hit one of the island's three Citi Bike docking stations. Then, download a map of Governors Island and hit the trail. There's public art, play areas, a slide park, historic buildings, a bee sanctuary, and a hammock grove for much-needed naps. Don't miss the Open Orchard by Sam Van Aken, a combination art installation and living archive of antique and heirloom fruit varieties that were once indigenous to New York City. Check govisland.com for more information.
Chill!
The highlight of this day spa is its heated outdoor pools overlooking the skyline. But, it also offers saunas, steam baths, footbaths, relaxation rooms, healthy meals, and evening poolside cocktails. The best thing is that $122 buys all-day access to pools, saunas, and steam rooms. Plus, the use of a robe, slippers, and shower products. Look for package deals for spa treatments that include massage.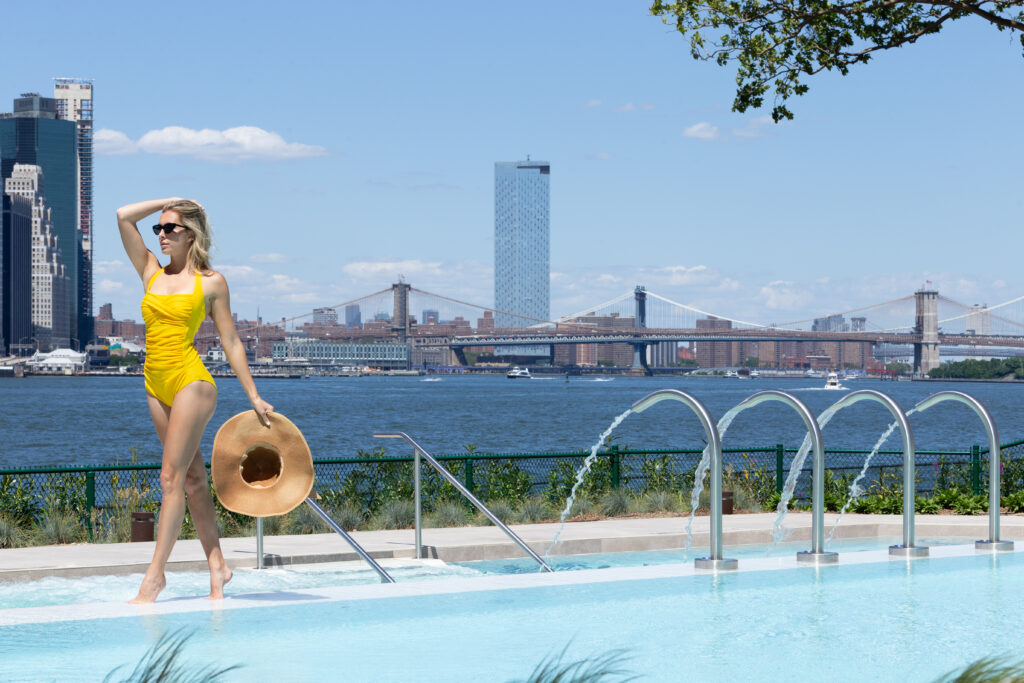 Party!
Debuted in 2018 by a Tulum-based hospitality group, this alfresco restaurant and club doubles down on beachy with sand floors and potted palms. Expect DJs, seating under palapas, and shaded chill-out beds with city views. To fuel your party, book ahead for large-format cocktails ($135, 8–10 servings) and buckets of beer ($36, 5 bottles of Pacifico or Corona). Soak these up with a veggie-friendly Mexican treats, then stagger to the last ferry home. Or avail yourself of Gitano's private ferry that travels to and from Pier 25, Hudson River Park.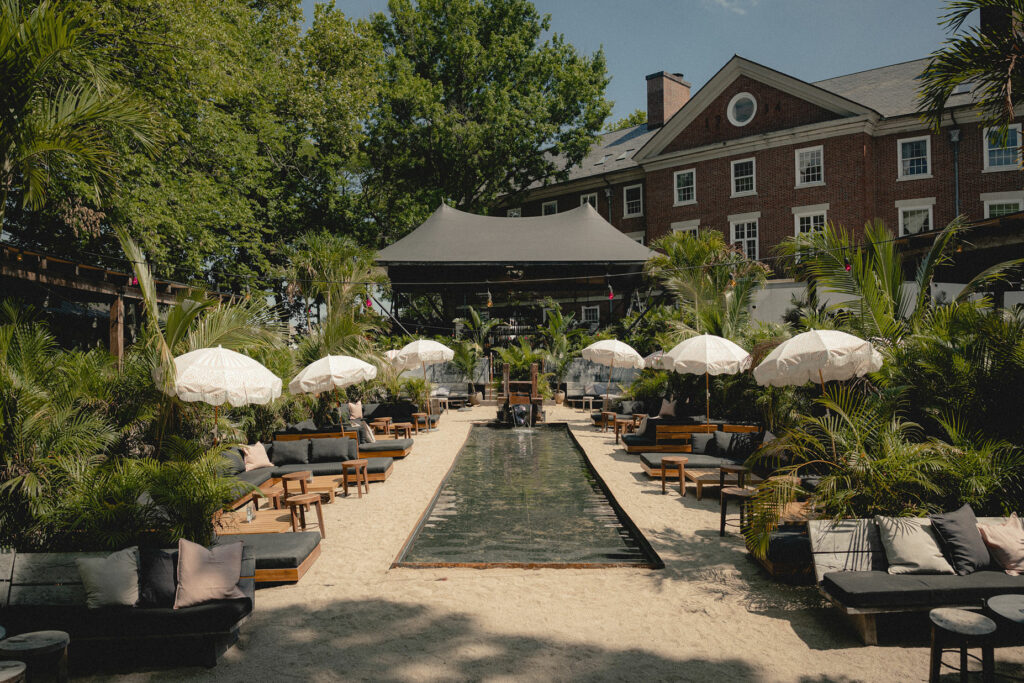 Nosh!
The island hosts a variety of seasonal vendors. Pick up cocktails, chowder, fish & chips, and popcorn shrimp at Little Eva's; hit Taco Vista for tacos, margs and burritos; grab wood-fired pizza at Pizza Yard—you can even play petanque while enjoying wine and sandwiches at Carreau Club. To see what's on offer, visit govisland.com/plan-your-visit/food.
Kinderhook & Environs
If you've been to Hudson, nearby Kinderhook offers a more countryfied view of Columbia County. Both are about three hours north of NYC by car, but tiny Kinderhook has only one fifth of Hudson's resident population. That's not counting the visitors that flood Hudson's hotels and inns. According to the town's website, Kinderhook's name comes from the Dutch for "bend in the river where children are". It's a pretty folkloric evocation of this town's charm. Even more folkloric? According to Herman Melville (who wrote Washington Irving's biography), its one room schoolhouse—that you can still visit—was once manned by the inspiration for Ichabod Crane, the schoolteacher buffoon of The Legend of Sleepy Hollow.
Glamp!
There are plenty of hotels in Hudson, but for end of summer it's wise to get the most out of being outside. In nearby Ghent, this glamping colony operates on a certified organic farm and offers plush safari tents on wooden decks. Look for king beds with high-thread-count linens, scatter rugs, pretty furnishings, mini fridges, and sweet ensuite baths with rain showers and flushing toilets. In chilly weather, heaters keep glampers cozy.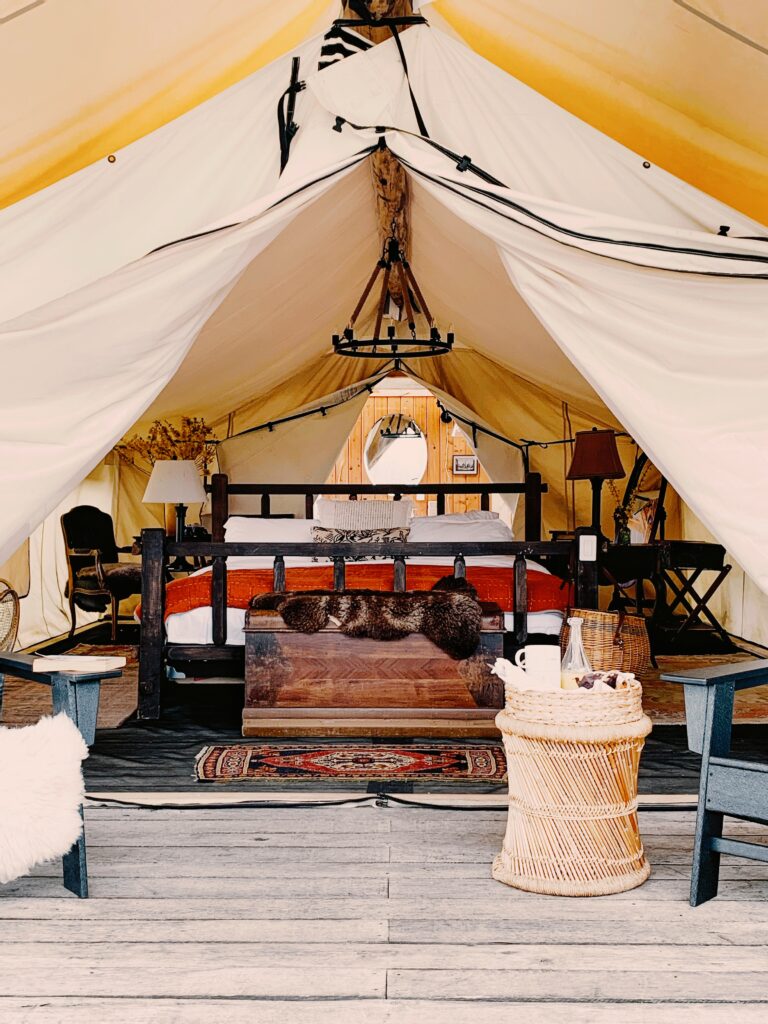 Explore!
This new combined-use space unites food, art, and retail in an 1870s textile mill. Plus, the businesses here are almost entirely owned by women and people of color. Chef Hannah Wong's Morningbird Café offers house-made pastries and Southeast Asia–inspired lunches, while her Aviary features dinners of Dutch and Indonesian fare. The Aviary's menu is also available at The Nest, Wong's cocktail lounge. Kinderhook Bottle Shop, a vendor focused on natural wines and craft spirits, is here, as is 2 Note Hudson, a lavish fragrance, skincare, and body and bath shop. Don't miss the contemporary artists showing onsite at September Gallery.
Get Enlightened!
This sculpture and architecture park and gallery in Ghent offers residency programs for international artists, writers, musicians, architects, and dancers. Spend a day walking its art-soaked 120-acres and try to emerge unchanged. Check its website for wide-ranging events and activities suitable for all ages and artistic interests.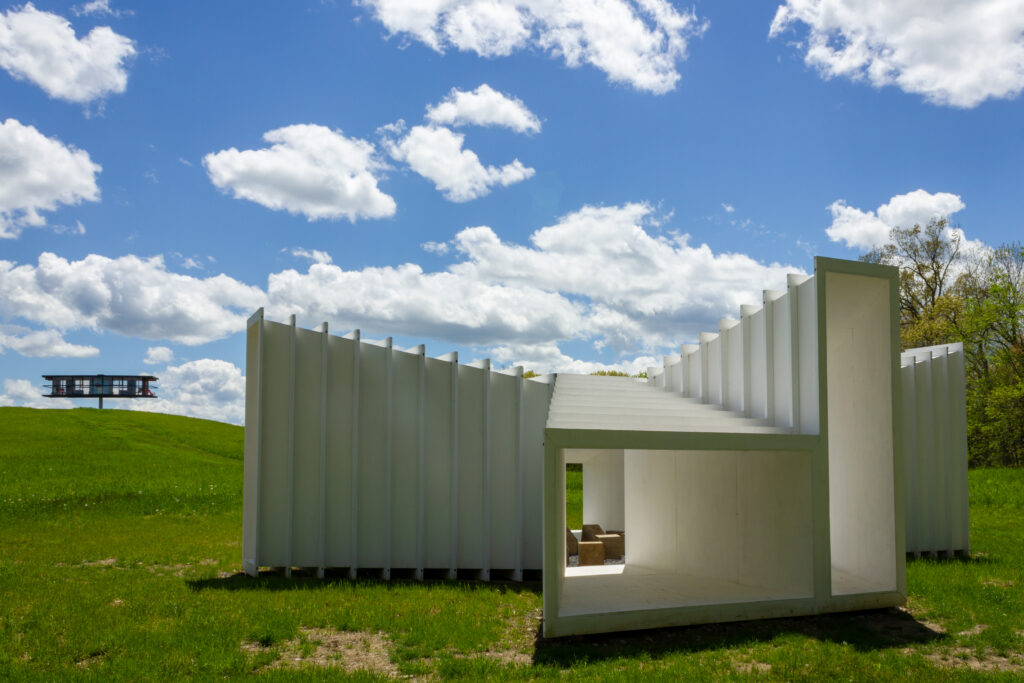 Chow Down!
Its baked goods—artisanal breads, pastries, cookies, and killer donuts—are justifiably famed, but don't miss the deliciousness flying out of its Ghent café. Open 8am–2pm, it slings serious brunches that feature fried chicken sandwiches with Calabrian chili honey, chipotle mayo, and house-made pickles, plus plates of fried farm eggs, house chorizo sausage, smashed black beans, cotija cheese, avocado, and salsa. This menu is wide-ranging and includes those baked goods—afterward, you might have to take a nap!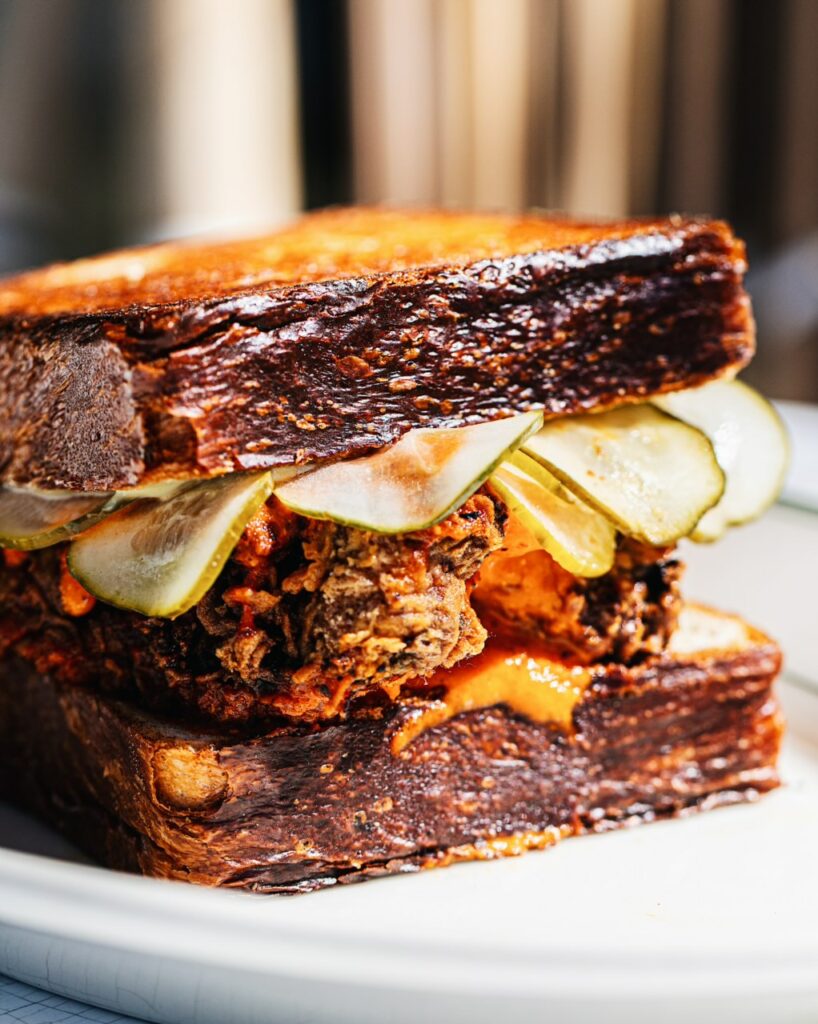 Drink Up!
Saisonniere
In Kinderhook, this beer specialist offers 125 specimens from craft breweries near and far. Look for 10 taps slinging a changing variety of American beers (to find out which, check untappd.com), plus and endless can and bottle list that roams the globe. Pair these with cheese boards, charcuterie, and thoughtful, locally sourced sandwiches that include a duck reuben with Bella Bella duck pastrami, Springbrook raclette, and Hawthorne Valley kimchi on sourdough.
RELATED: Map of the Stars: Where the Experts Eat
Feature Image courtesy of Collective Retreats.